Maintain your home with sheetrock repair.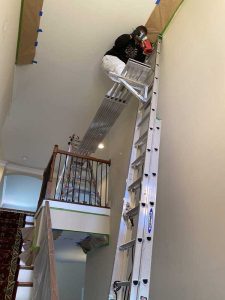 The normal activities of daily living can result in damage to your home's walls and sheetrock. And unless you're a contractor, you may have no idea what to do to fix your damaged sheetrock and get your walls looking like new again.
This is where we come in at Home Doctor. We offer sheetrock repair services here in the Clemmons, North Carolina area, and we can come and fix sheetrock damage caused by:
Cracks from setting
Regular wear and tear
Damage from your kids
Holes from drywall anchors
Damage from moisture
Door knob holes
We don't just do the sheetrock repair and call it a day – we'll also take measures to determine why and how your drywall incurred damaged. For example, your drywall may have sustained damage due to poor ventilation or a leaking roof. We'll make suggestions for proactive steps you can take to prevent the problem from happening again. And if your sheetrock is beyond repair, we'll remove the damaged area and install new sheetrock.
Before we fix your sheetrock, we can come to your home and assess what needs to be done. We can then give you an estimate, so you know what to expect in terms of pricing and what steps will follow. If you have questions about sheetrock repair and how we can help you keep your home looking its best, get in touch with us today!
---
At Home Repair Doctor, we offer sheetrock repair services for customers in Clemmons, Advance, Lewisville, Pfafftown, Bermuda Run, Lexington, Kernersville, Mocksville, Greensboro, Oak Ridge, Sandy Ridge, Summerfield, High Point, Rural Hall, King, Tobaccoville, Wallburg, East Bend, Yadkinville, Thomasville, Walkertown, and Winston-Salem, North Carolina.