Does your bedroom need a facelift? Ask us about our painting services.
Home renovations and redecorating is exciting, especially when you're changing up a space you've been in for years. However, you don't need to go through the home renovation process to justify a bedroom painting service. You can keep your same bedroom layout and furniture and still wind up with what feels like a completely new space when you hire our bedroom painting service.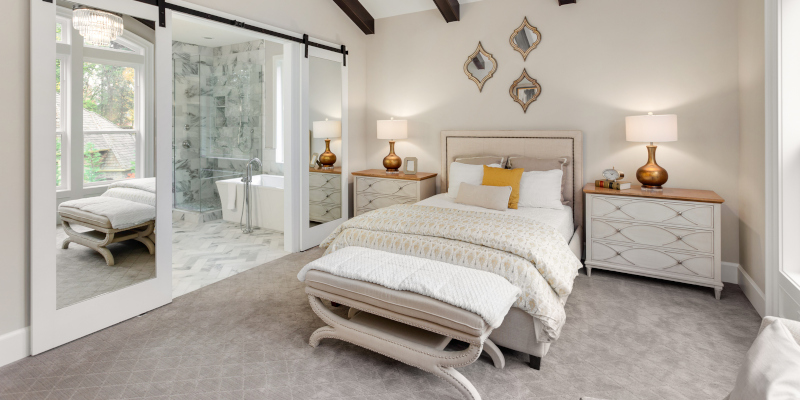 The paint on your Clemmons, North Carolina bedroom walls can have a big influence on the feel of the rest of the room. Plus, over time, walls get dirty, and your once-vibrant paintjob can appear dirty without a touch-up. Our bedroom painting service helps you bring more life to your bedroom if you feel it becoming more lackluster. Our trustworthy service and professionalism as well as the high-quality paints that we use are sure to complete the job to your satisfaction. We also protect the other surfaces in your room, so paint spills and droplets won't be an issue.
You may also find yourself wanting a new bedroom paintjob if you find scuff marks or other unsightly damages on your bedroom walls. While a new coat of paint won't fill in a nail hole, we here at Home Doctor can offer to fill nail holes in prior to starting the painting process, so you can enjoy a clean, smooth finish on your walls once we're all finished up.
Don't let your bedroom feel like a boring or dirty space. Reach out to us today and ask us about how our bedroom painting service can breathe new life into your bedroom.
---
At Home Repair Doctor, we offer bedroom painting services for customers in Clemmons, Advance, Lewisville, Pfafftown, Bermuda Run, Lexington, Kernersville, Mocksville, Greensboro, Oak Ridge, Sandy Ridge, Summerfield, High Point, Rural Hall, King, Tobaccoville, Wallburg, East Bend, Yadkinville, Thomasville, Walkertown, and Winston-Salem, North Carolina.